TRS-80 PC-2 (and Sharp PC-1500) : service manual
Radio Shack TRS-80 PC-2 service manual (technical information)(*).
Most of the information in this manual should apply both to the TRS-80 PC-2 and the Sharp PC-1500. Click on the image below to download a scanned version of this document in PDF format.
Contributed by : E. Mulder (Pooh).
Download zipped PDF manual (9.9 MB)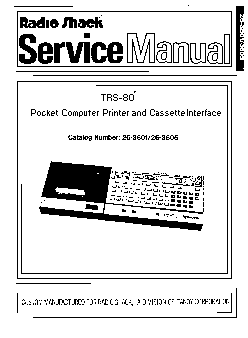 Table of contents
Pocket computer (26-3601)
Specifications
Block diagram
LH5811 I/O port
Circuit description
Servicing
Key & power supply circuit
Key P.C.B.
Main P.C.B.
LCD segment & back-plate signal
Parts list
Exploded view
Main circuit diagram
Optional printer & cassette interface (26-3605)
Electrical section
Specifications
System block diagram
Circuit description
Circuit diagram
Parts and signals position
Parts list
Exploded view
Mechanical section
Specifications
Mechanisms and operation
Disassembly and reassembly
Repair and maintenance
Oiling standard
Adhesion standard
Circuit diagram and wiring
Mechanical parts list
Exploded view
(*) This material is made available for documentation purpose only, since the PC-1500 is now an obsolete computer. This is not a commercial site. If you own a copyright on this program and do not want it to be available from this site, please inform me and I will remove it.
---