Sharp PC-1500 (and TRS-80 PC-2) : technical reference manual
Sharp PC-1500 technical reference manual(*).
© 1983 Sharp Corporation.
This 160 pages manual published by Sharp in 1983 provides a detailed description of the PC-1500 machine language and microprocessor.
(Click on the image below to download a scanned version of this document in PDF format.)
Contributed by : Tom Berry.
Download zipped PDF manual (26.3 MB)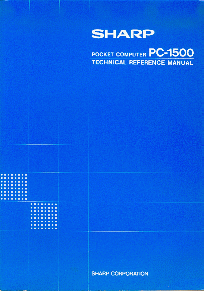 Table of contents
1. Machine Language
2. LH5801 Microprocessor
2-1. Outline of LH5801
2-2. Internal structure
2-3. Functions
2-4. LH5801 instructions
2-5. Command list
2-6. Electrical characteristics and timings
3. LH5801/LH5811 I/O port controller
3-1. Outline
3-2. Functions
3-3. Internal structure
3-4. Functions
3-5. Specification
4. PC-1500 hardware description
4-1. PC-1500 system configuration
4-2. PC-1500
4-3. Connector signals/LSI signals
4-4. Key matrix and key code chart
5. PC-1500 software
5-1. BASIC commands related to PC-1500 machine language
5-2. Internal code chart
5-3. Expression of variable and program
5-4. System subroutines
6. Machine language programming examples
[Reference]
1. Determining printing character size and direction
2. Restoration of array and two-character variables
3. Knowing the use of CE-150
4. CMT format
5. Circuit diagrams
(*) This software is made available for documentation purpose only, since the PC-1500 is now an obsolete computer. This is not a commercial site. If you own a copyright on this program and do not want it to be available from this site, please inform me and I will remove it.
---